Welcome to our first Newsletter for 2016!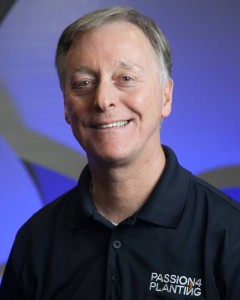 We are thrilled to launch the Passion for Planting (P4P) newsletter. Our mission is to keep church planters focused on people, the people God has called you to reach. In the coming issues we will be sharing many of the lessons we've learned over the years in starting healthy churches. Got something specific you'd like to see? Let us know and we'll put it in a future issue.
The P4P Newsletter is intentionally brief because we know you're busy. Our goal is to hit the high points and provide you with links to posts, sites, or resources that will enhance your efforts. Before we get into the nuts and bolts in our next issue, we want to share what we have going on internally here at P4P in 2016. Our next issue we will list our top FREE downloads (with links) and highlight some of the most often asked questions from church planters.
Passion for Planting hosts Exponential 2016 Pre-Conference
We are so excited to host the Launching a New Church Lab Pre-Conference sessions this year.  Join Aubrey Malphurs, John Worcester, Phil Ling and Passion for Planting for an interactive look at significant phases you will work through in launching a healthy church that reaches people far from God. No hype or theory here, just proven how-to strategies for launching effectively. Come with questions to learn from a panel of coaches, get your hands on actual launch plans from recent church plants, and gain valuable lessons learned.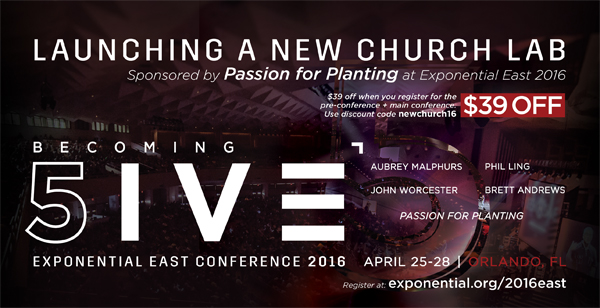 Exponential continues to offer tons of resources for church planters and church planting organizations. Starting now, you can browse through these resources based on "channels." We're honored to lead the Church Planting Channel where we will draw your attention to the latest posts, pages, etc., from the church planting community. This is a dynamic page that we will consistently update, so come back often.
We are humbled and excited by the number of church planters that are using PlanterPlan to help start new churches. It's amazing to see so many users from around the world! Most are planting churches in the United States (where our content is focused); however, we're thrilled that the list of countries with multiple projects registered in PlanterPlan includes: Canada, New Zealand, India, Nigeria, Brazil, Germany, United Kingdom. In addition, there are churches being planted in Australia, Bahamas, Czech Republic, Ghana, Israel, Ivory Coast, Jamaica, Norway, Philippines, Poland, Romania, South Africa, Uganda and Uruguay. Is that crazy or what!?!
Big Plans for 2016
We're working on a new and improved Church-Planting.net were many of our practical resources are hosted as well as enhancements to PlanterPlan. Your feedback on our tools and resources is always welcome! Please email Dale or Dave with your thoughts for improvement AND your appreciation for things that work well (we don't mind good news!).
In Christ,
Dale Spaulding,
Director, Passion for Planting