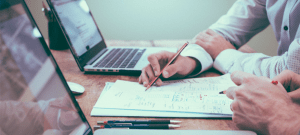 Through church plant Project Management, Passion for Planting works hand-in-hand with the planter to ensure every step in the process comes together at the right time. We help planters get from where they are, to where they need to be. Specializing in project management and administration, and working virtually with the planter during the crucial pre-launch period, our project managers are like having a part-time Executive Pastor.

Passion for Planting developed PlanterPlan as the online platform that keeps the planter, coach and launch team all on the same page, following the same script, from beginning through opening day! We continue to refine the content and the tool to ensure the tasks are relevant, timely and executed in the proper sequence.
In the short video below, Dale Spaulding (Director, Passion for Planting) talks with Patrick O'Connell (Director, NewThing) about the importance of Project Management in launching a healthy, multiplying church.
More than just a task master, the Project Manager troubleshoots problems and challenges with the planter. He encourages and equips, exhorts and critically discusses detailed plans to help the planter think through big decisions like where to meet, how many services to have, community outreach plans and much, much more.
Project Management Services Provided
Weekly Calls with Planter

Review the schedule and deliverables
Develop "to do" list for Planter and Project Manager
Encourage and pray for the church planter

Assist with development of the following plans/strategies:

Launch Plan
Philosophy of Ministry
Launch Team Development Strategy
Fundraising Strategy
Marketing Strategy
Community Networking Strategy
Facilities and Equipment Strategy
Discipleship Strategy
Outreach Strategy
Leadership Development Strategy
Staffing Strategy
Ministry Teams Strategy
Assimilation Strategy
Church Multiplication Strategy

Develop year 1-3 Church Budget
Prepare Demographics Studies/Reports
Establish Corporate Records Notebook
Prepare Board of Directors Meeting Minutes
Complete Legal Entity Formation:

Draft Articles of Incorporation
File Articles with State Corporation Commission
Obtain Federal Employment ID Number
Establish Banking
Obtain Church Insurance
Draft Bylaws
Prepare/Submit IRS 501(c)(3) package
File for State Tax Exemption
Obtain Non-profit / Bulk Mailing Permits

Assist with obtaining Start-up AV Equipment
Develop Staff Policy Manual
Develop Church Operations Manual (systems and processes)
Provide Monthly Project Management Status Reports
Listen to what church planter Chris Pasik appreciated about Passion for Planting's Project Management services.
Coaching and Project Management
At Passion for Planting, we believe in the value of Church Plant Project Management AND Coaching. The Project Manager and Coach are two separate, but equally important, roles. The Project Manager works side by side (virtualy) with the planter during the 9 month pre-launch period to get those 400+ tasks completed. The Coach is a longer term relationship that will begin before Project Management (pre-launch) and hopefully continue long term (post-launch).
Got Questions? Please fill out the form below.