Church Planting Residency Program: Discovering & Equipping Next Generation Leaders
We're excited to announce we now have two methods for our complete residency experience: 1) Passion for Planting's Church Planter Distance Residency Track and 2) Mid-Atlantic Christian University's (MACU) Graduate Certificate in Church Planting. Both tracks take you through our curriculum designed for planting churches.

Passion for Planting
Distance Residency
Submissions throughout the residency are evaluated on a peer-review basis
Cost: $2,500 for this 10 month program will be required two weeks prior to the commencement of the Cohort
When the resident successfully completes the program, a $500 donation will be made by Passion for Planting to the resident's new church plant
Embedded Resident option for New Life Christian Church has some additional benefits (see below)
Mid-Atlantic Christian University
Graduate Certificate in Church Planting
Partnership with Passion for Planting
Costs: Tuition for the program in 2017-2018, $6,750 for all 15 credits (details)
Provides an accredited graduate-level certificate (MACU GCCP)
15 credit hours (three 5-hour courses)
Submissions throughout the coursework are graded using the certified grading rubric
See Frequently Asked Questions for more details
Learning Methods
---
Online: Residents use our online courses (unit content, blogs, podcasts, videos) to prepare for Cohort Day.
Virtual Instruction: Weekly Cohort Day instruction via web-based video conference from Passion for Planting with nationally recognized guest speakers.
Onsite Intensives: 4 day onsite intensives (twice per year) to deep dive into pre-launch critical topics and set the DNA for becoming multiplying churches.
Both Programs Include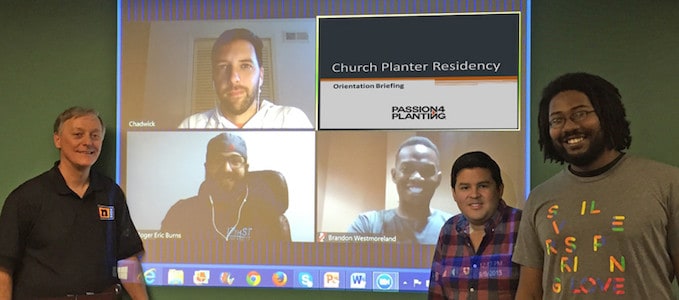 Unique training in a wide-array of specialized areas including:
Vision, mission and core values
Demographic research and analysis
Budget and finance
Prayer team strategy
Staffing strategy
Launch team development
Discipleship strategy
Ministry teams strategy
Marketing and outreach strategy
Facilities and equipment acquisition
Fundraising strategy
A Dynamic Distance Learning Option
We've worked hard to make our residency program available to right where you are. This option allows you to continue serving in your local context, learning under trusted mentors, all the while preparing to start churches alongside a diverse group of residents. Excellent resource! Allows me serve as an Associate Minister while learning in a flexible environment. If you are considering church planting you MUST go through this program!
–Brian D, Cohort '17 This model is working well for us. We think it's the way of the future.
Distant residents interact with cohort members and instructors once a week via video conference. Through these training sessions residents learn the "nuts and bolts" of church planting while developing the strategies/plans required to plant a healthy church. All residents are required to attend two (week-long) onsite intensives during the 10-month residency period at New Life Christian Church (a church-planting church) in Northern Virginia. During these intensive weeks you'll deliver sermons, rub shoulders with experienced church planters, learn to clarify and articulate your vision along with many other practical exercises designed to help you answer God's call through church planting.
Practical Experience
By participating in a Passion for Planting Church Planter Residency (10 month Cohort) you'll gain the practical experience you need to succeed by "learning the R.O.P.E.S."
Research: Research potential church plant locations and their communities. Learn the how-to's of church planting.
Observe: Observe and participate in ministry at healthy church plants. Serve significantly at New Life Christian Church (a church planting church) and spend quality time at three other regional church plants. Learn what it means to reach people far from God.
Present: Present and discuss your God-given vision and strategies with your peers and mentors.
Evaluate: Evaluate presentation feedback as well as peer presentations to prepare for healthier church starts.
Support: Support your peers and be supported as you embark on your planting journey.
Our focus on practical experience prepares you to transition to the Church Planter/Senior Minister role with an emphasis on proven community outreach and service methods.  Other experience includes:
Developing the strategies and plans you'll need to plant (ex. Launch Plan, Marketing Plan, Fundraising Plan, Staffing Plan, Church Budget, etc.)
Practical ministry assignments at regional church plants
Leadership training including strategic planning, critical thinking, and more
Teaching team experience (develop/deliver preview service and opening day sermons)
Participation in regional church planter coaching gatherings
Embedded Residency
This option requires the resident to work/learn with Passion for Planting in Northern Virginia at New Life Christian Church.  The resident will learn the "nuts and bolts" of church planting while participating in a Cohort with other residents.  The embedded residency also provides practical experience within the ministry departments of New Life Christian Church and with recent church plants in the region. While a monthly stipend is provided to qualified embedded residents, residents are also expected to raise funds during their residency.  A portion of these funds may be set aside for the future church plant.
Church Planting Residency Application
Passion for Planting
Distance Residency
NOTE:   We are NOW accepting applications for the Fall 2017 Cohort.
To Apply for Church Planting Residency Program:
Click: Register New Account
Create Account
Request Affiliation with: "Passion for Planting: Church Planter Residency"
Proceed through the online Application Phases
Mid-Atlantic Christian University
Graduate Certificate in Church Planting
The application process is a two step process.
Apply and be accepted to MACU's Graduate School.
Apply to the GCCP program (may be done concurrently with step one)
Instructions for applying to the Graduate School may be found here.
Questions?  Please email planting@church-planting.net for questions about our church planter residency program.