by Carey Nieuwhof: How do you become a sought-after public speaker when you never planned on becoming one? That's a question Jenni Catron, who's now a full time consultant and public speaker, had to figure out. She started at age 20 at a record label and soon discovered pitching to people much older than her was part of her job. Promoted quickly, Jenni eventually went on to become the Executive Pastor of two well known mega-churches where, again, she discovered that communicating well was a key to success.
In her latest incarnation, Jenni has become a full time consultant, writer and public speaker. Carey and Jenni share pro tips about what makes for a great talk and introduce something brand new: the Nieuwhof Speaking Team, a curated group of leadership experts and fresh voices that will help you make your next event a success.
Welcome to Episode 270 of the podcast. Listen and access the show notes below or search for the Carey Nieuwhof Leadership Podcast on Apple Podcasts or wherever you get your podcasts and listen for free.
Guest Links
Jenni Catron | Facebook | Instagram | Twitter | The 4Sight Group
The Four Dimensions of Extraordinary Leadership
Clout: Discover and Unleash Your God-Given Influence
Three Keys for Developing a Thriving Team – Free workbook
CNLP 025: The Changes You Need to Make as Your Church Grows – an Interview with Jenni Catron
CNLP 071: Jenni Catron on Becoming an Extraordinary Leader
Episode Links
Introducing the Nieuwhof Speaking Team comprised of top leaders to bring dynamic insight, clarity and wisdom to your next gathering.
For years, Carey has spoken to leaders around the world about leadership, change and personal growth.  Today, we're introducing a team of communicators who can bring just what you need to help your next event or conference be a complete success.
The Nieuwhof Speaking Team line up is:
Took learn more or book a speaking team member for your event, click here.
And…what are you doing about social media, video and graphics for your online presence?
Pro Media Fire has the media solution that's right for your church at promediafire.com/carey. Podcast listeners receive 10% off for life.
3 Insights from Jenni
1. Leaders have the opportunity to offer the gift of belief
Leaders notice the talents that are hiding in the people around them and that insight, that belief, offers quite a gift. The gift of belief sees the potential in others and calls them out by finding opportunities for those people to grow (sometimes even before they've even been able to prove themselves worthy of the task). And the best part? The gift of belief can light a fire inside someone and completely change the trajectory of a career.
2. People don't hear your bullet points until they connect with you
Connecting to an audience, large or small, is crucial to getting a message to stick, but often speakers focus more on content over connection when preparing a talk.
Don't be so concerned about getting all the bullet points checked off your list. Instead, move that energy toward figuring out how you can connect with the people in the room, because that is what opens up the door to sharing your content and being heard.
3. Create a dwelling space in your talks
Great communicators never seem like they're in a hurry. They posses a sense of pacing that seems to work effortlessly. But for most speakers, even the naturally gifted speakers, that approach is usually intentional, planned and practiced routinely.
As you're preparing and writing out your talks, leave time for that space. Offering time for listeners to dwell or linger on the story or the concept you have to tell opens up a place for them to make a better connection with what you have to say.
Quotes from Episode 270
Wherever you're communicating, you're leading and leadership is influence…You have the power to change or affect the lives of the people sitting in that room. @jennicatronClick To Tweet
One of my mantras is to slow down to see people, because in everything I do I can just move too fast. @jennicatronClick To Tweet
Imitation kills innovation. Be careful, because you're only able to innovate when you really live within the gifting, the framework, the personality that God has given you. @cnieuwhofClick To Tweet
My greatest fear in speaking is that I'm not going to have enough content to fill the time, but the reality is if you're done early, there's not a single person in the world who's upset that you finished early. @cnieuwhofClick To Tweet
If leaders see somebody's potential and call that out, that gift of belief will cause them to rise to the occasion. @jennicatronClick To Tweet
Looking for a key quote? More of a reader?
Read or download a free PDF transcript of this episode here.
Select episodes of this podcast are now on YouTube. Our new YouTube Channel gives you a chance to watch some episodes, not just listen. We'll add select episodes to YouTube as time goes on.
Want to become a better communicator?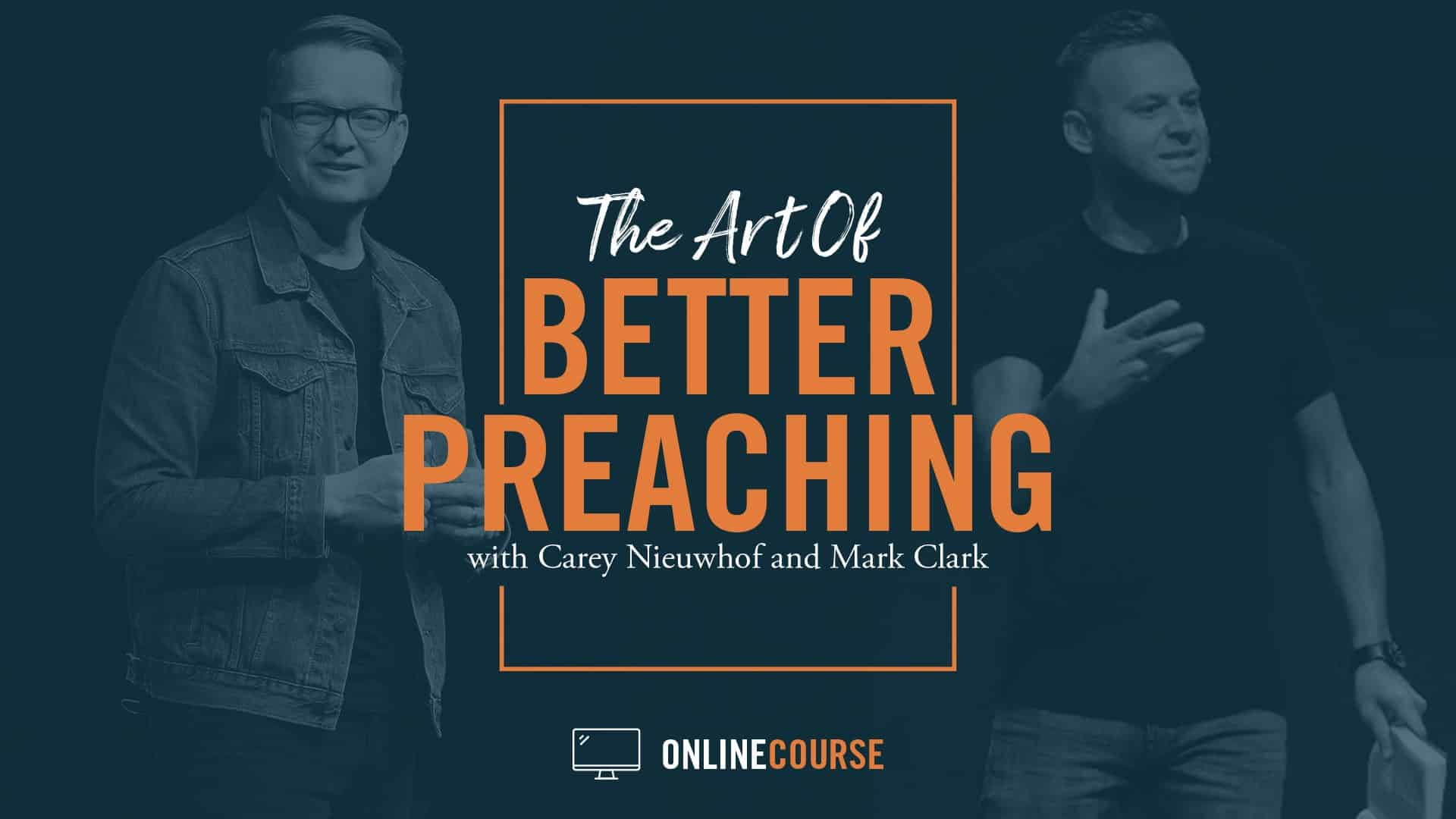 Ready to start preaching better sermons and reach the unchurched without selling out? Then it's time to start using the right tips, lessons, and strategies to communicating better.
The Art of Better Preaching Course is a 12 session video training with a comprehensive, interactive workbook that will help you create, write, and deliver better sermons. The course contains the lessons Mark Clark (lead pastor of  Village Church, a growing mega-church in post-Christian Vancouver) and I have learned, taught, and used over decades of being professional communicators.
This is the complete course you need to start preaching better sermons, including:
7 preaching myths it's time to bust forever
The 5 keys to preaching sermons to unchurched people (that will keep them coming back)
How to discover the power in the text (and use it to drive your sermon)
The specific characteristics of sermons that reach people in today's world
Why you need to ditch your sermon notes (and how to do it far more easily than you think.)
How to keep your heart and mind fresh over the long run
And far more! Plus you get an interactive workbook and some bonus resources that will help you write amazing messages week after week.
In the Art of Better Preaching, Mark and I share everything we've learned about communicating in a way that will help your church grow without compromising biblical integrity. We cover detailed training on everything from interacting with the biblical text to delivering a talk without using notes, to writing killer bottom lines that people will remember for years.
Check it out today and gain instant access.
Subscribed Yet? 
Subscribe for free and never miss out on wisdom from world-class leaders like Brian Houston, Andy Stanley, Craig Groeschel, Nancy Duarte, Henry Cloud, Patrick Lencioni, Francis Chan, Ann Voskamp, Erwin McManus and many others.
Subscribe using your favorite podcast app via
Spread the Word. Leave a Rating and Review
Hopefully, this episode has helped you lead like never before. That's my goal. If you appreciated it, could you share the love?
The best way to do that is to rate the podcast on Apple Podcasts and leave us a brief review! You can do the same on Stitcher and on TuneIn as well.
Your ratings and reviews help us place the podcast in front of new leaders and listeners. Your feedback also lets me know how I can better serve you.
Thank you for being so awesome.
Next Episode: Ken Coleman 
Ken Coleman has interviewed world-class leaders in politics, sports, business and leadership for years. He deconstructs his approach and shares how to get the very best out of people, how to get people to share at a deep level and how to network and build your career without becoming a social climber.
Subscribe for free now and you won't miss Episode 271.
The post CNLP 270: Jenni Catron On How to Become a Good Public Speaker When You Never Planned To Become One, Pro Tips for Every Communicator, Why Communication Matters Even If You Never Give a Formal Talk appeared first on CareyNieuwhof.com.
Source: CNLP 270: Jenni Catron On How to Become a Good Public Speaker When You Never Planned To Become One, Pro Tips for Every Communicator, Why Communication Matters Even If You Never Give a Formal Talk