by Carey Nieuwhof: The attractional church model has been the dominant church model for 20 years in growing churches and many leaders are noticing it's not nearly as effective as it used to be. Few churches were better known for the attractional model than Cross Point Church in Nashville, TN.
In a raw, honest and open conversation, Creative Director Drew Powell and Executive Director Matt Warren talk about why attractional church isn't what it used to be, why it was effective but isn't as much anymore, what they've changed (and why Cross Point is now the largest its ever been) and where the future church is heading.
Welcome to Episode 251 of the podcast. Listen and access the show notes below or search for the Carey Nieuwhof Leadership Podcast on Apple Podcasts or wherever you get your podcasts and listen for free.
Guest Links
@drewpowell | @mattywarren | crosspoint.tv | crosspoint.tv/music
Episode Links
Step up your digital game and grow your congregation through custom-tailored content with Pro Media Fire. Take advantage of this special offer for podcast listeners at promediafire.com/carey and receive 10% off all plans for life and 40% off media bundles for life.
Mark Clark and I team up in The Art of Better Preaching, where we share everything we've learned about communicating in a way that will help your church grow without compromising biblical integrity. We cover detailed training on everything from interacting with the biblical text, to delivering a talk without using notes, to writing killer bottom lines that people will remember for years. Find out how you can improve your preaching by enrolling today.
5 Reasons Charismatic Churches Are Growing (And Attractional Churches Are Past Peak) by Carey Nieuwhof
3 Insights from Drew & Matt
1. The foyer of the church has moved online
Nobody goes to a restaurant without checking out the website and reviews first and it's no different for seekers looking for a church to call home. Most people are going to visit a church online before ever considering to step through the doors and that's why the foyer of the church has moved.
Once online attenders are ready to experience a service live, the transition can be intimidating. That's the time where they get to find out if everything they've been experiencing online (and missing out on live) is real and true.
It's important to have volunteers on the ground ready to make them feel expected, welcomed and at home. That successful transition often leads to fast engagement because they are eager to get involved in the church community once that online barrier has been crossed.
2. Everyone can still be welcome in a charismatic model
As many churches move towards a more charismatic model, it's important to continue to be welcoming to everyone – a key component of attractional church that doesn't need to disappear.
What's shifting in the charismatic approach is who the programming is being created to reach. Instead of cultivating a service with only the unchurched in mind, incorporate space in the program that provides the "first couple of rungs on the ladder" for anyone new to the church space while keeping the focus on engaging Christ followers in continued spiritual growth.
3. Don't wear Saul's armor; find your own fit
If you feel stuck in a model that isn't working and aren't sure how to change course, there are two places to focus on in order to slowly turn the ship around.
First, pray – and if you don't know how to pray, ask God to teach you how. Seems too simple, but never underestimate the powerful changes that can come through intentional prayer.
Second, focus on your unique calling instead of getting lost in the comparison trap. The things that connect your church to your community are not necessarily the same things that connect other churches to theirs. You can't wear Saul's armor. You need a suite customized for your own battle. Focus on your strengths, know who you are and hone in on what God has called you to do.
Quotes from Episode 251
Nobody is looking for WOW anymore in the church. If they are truly lost, they are looking for HOW. -Matt WarrenClick To Tweet
People show up looking for Jesus and shame on us if they show up and only find us. @cnieuwhofClick To Tweet
I never want to lose the environment that says everybody is welcome. -Matt WarrenClick To Tweet
We're never going to have the opportunity to actually get our arms around online attenders if we don't engage them in the new foyer, which is online. -Drew PowellClick To Tweet
Looking for a key quote? More of a reader?
Read or download a free PDF transcript of this episode here.
Reach More People…Every Weekend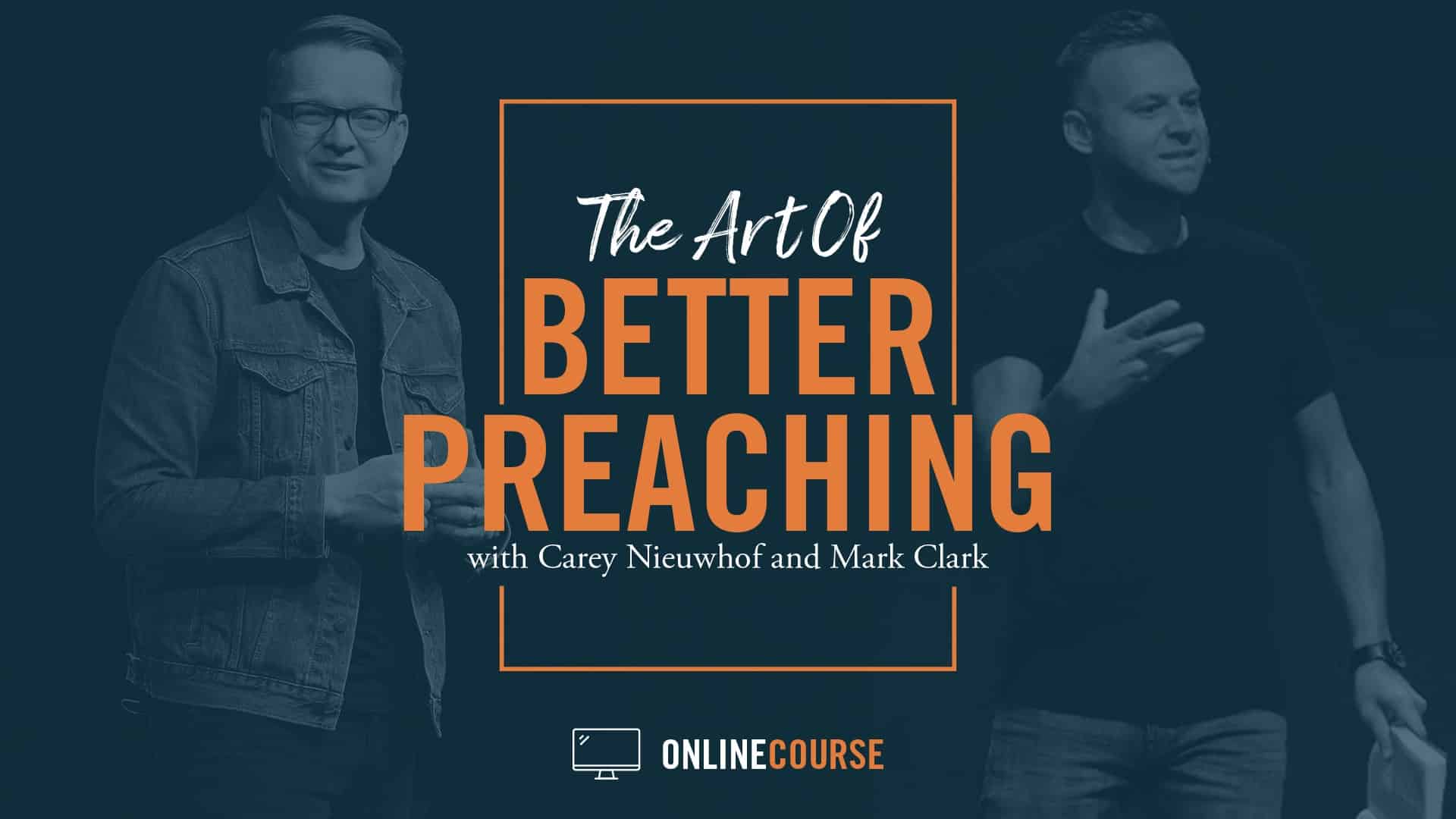 Ready to start preaching better sermons and reach the unchurched without selling out? Then it's time to start using the right tips, lessons, and strategies to communicating better.
76% of people say that preaching is a major factor in whether they decide to stay at a church.
The Art of Better Preaching Course is a 12 session video training with a comprehensive, interactive workbook that will help you create, write, and deliver better sermons. The course contains the lessons Mark Clark (lead pastor of  Village Church, a growing mega-church in post-Christian Vancouver) and I have learned, taught, and used over decades of being professional communicators.
This is the complete course you need to start preaching better sermons, including:
7 preaching myths it's time to bust forever
The 5 keys to preaching sermons to unchurched people (that will keep them coming back)
How to discover the power in the text (and use it to drive your sermon)
The specific characteristics of sermons that reach people in today's world
Why you need to ditch your sermon notes (and how to do it far more easily than you think.)
How to keep your heart and mind fresh over the long run
And far more! Plus you get an interactive workbook and some bonus resources that will help you write amazing messages week after week.
In the Art of Better Preaching, Mark and I share everything we've learned about communicating in a way that will help your church grow without compromising biblical integrity. We cover detailed training on everything from interacting with the biblical text to delivering a talk without using notes, to writing killer bottom lines that people will remember for years.
Check it out today and gain instant access.
Subscribed Yet? 
Subscribe for free and never miss out on wisdom from world-class leaders like Brian Houston, Andy Stanley, Craig Groeschel, Nancy Duarte, Henry Cloud, Patrick Lencioni, Francis Chan, Ann Voskamp, Erwin McManus and many others.
Subscribe using your favorite podcast app via
Spread the Word. Leave a Rating and Review
Hopefully, this episode has helped you lead like never before. That's my goal. If you appreciated it, could you share the love?
The best way to do that is to rate the podcast on Apple Podcasts and leave us a brief review! You can do the same on Stitcher and on TuneIn as well.
Your ratings and reviews help us place the podcast in front of new leaders and listeners. Your feedback also lets me know how I can better serve you.
Thank you for being so awesome.
Next Episode: Kevin Queen
What do you do when a well-known, charismatic founder of a highly visible, successful church resigns and you're the successor? That was Kevin Queen's situation in 2017 when he took over the Lead Pastor role at Cross Point Church in Nashville, TN after Pete Wilson stepped back. Kevin had never been a Lead Pastor before and has a very different style and approach. 18 months later, the church has never been stronger or larger, and is moving into the future as alive as it's ever been. Kevin shares that astonishing, unlikely story of how it all came together under God's grace.
Subscribe for free now and you won't miss Episode 252.
The post CNLP 251: Drew Powell and Matt Warren on Why Attractional Church is Past Peak, Why It's Changing and What's Next for Weekend Services appeared first on CareyNieuwhof.com.
Source: CNLP 251: Drew Powell and Matt Warren on Why Attractional Church is Past Peak, Why It's Changing and What's Next for Weekend Services