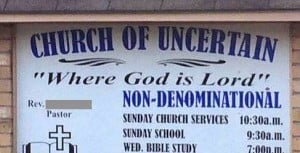 Every legal entity must have a name. In the case of the church, the name communicates many things about who you are. The name of the church should flow directly out of your philosophy of ministry. Once you have defined the mission, vision and core values for the church, you're ready to choose a name. The church behind the sign we found, Church of Uncertain, might be a really great place, but is "uncertainty" really one of your core values?
If you have to stop and think about the name, it probably isn't good.
Since the church name precedes the experience people have at your church, it plays a significant role in shaping important first impressions. Every name communicates something:
Fresh or stogy
Formal or informal
Alive or dead
Churchy or edgy
Boomer or postmodern
Artsy or businesses like
Locality
Some planters select a "locality" name that communicates this is a local church. For example, a church in Pittsburgh may select a name such as "Steel City Church." You may also consider naming the church in a way that communicates vision about the church. A church that emphasizes discovering God may choose the name "Discovery Church." Some planters are required to use a denominational title as part of the name.
Understand Your Community
It is important to understand your target community before choosing a name. It would be a bad idea to name the church Discovery only to find out later that it is also the name of a local "adult" establishment. Spend time locally learning the community before selecting a name. Test the name by going to a local coffee house and ask at least five locals what they think of the name (the "Starbucks" test).
Legal Requirements
The name needs to be selected early in the planning process since it is required for completing many other actions (e.g. setting up checking account, marketing, filing articles of incorporation, etc.). Many of these actions have very long lead times and are required to gain maximum benefit from tax-exempt status (e.g. direct mail costs can be cut nearly in half for churches who have obtained non-profit status).
Some Advice
Don't use a temporary church name. Not only due to the additional costs and paperwork involved but also due to the loss of any branding accomplished under the other name. Instead, work hard to understand what God has called you to do with his church in this place and at this time. Struggle to define who you will be and name the church accordingly.
In our experience, you can check online to see if anyone has registered the name you've chosen in your state. It is very important to make sure no one is already using the same name in your area. By checking with the state, you will ensure that other new churches that may be starting when you are do not use the same name.
Pay attention to names that are like the one you've chosen and see if there are websites that are using that particular name. There is nothing more embarrassing (to say the least), to discover your name is linked to an organization that is the farthest thing from Christ-like activity.
Recommended Actions
Determine name availability (or distinguishably) with your state corporation commission (should be available via an online).
Consider using a Branding Company to select a name.
Read the Igor Naming Guide:
Do a Google search to determine what names are already in the target area.
Make a list of all other churches and think about what each name communicates about that church.
Look at maps and consider whether a "locality" name is a good path to take
Brainstorm possible names (see Church Name Brainstorming List)
Solicit input from people in the target area, especially non-Christians, to determine if the intended meaning is clearly understood.
Verify there are is no local history or bias that would give the name a bad reputation
PlanterPlan Task
Along with hundreds of details required to launch a new church (or relaunch an existing church), we cover this task in detail in PlanterPlan. Follow the link below to jump directly to your PlanterPlan project's task.
Select Church Name