by Carey Nieuwhof: Heather Zempel is a biological engineer who started working as a policy advisor to a US Senator on Capitol Hill in Washington, DC. She now works with Mark Batterson doing ministry on Capitol Hill.
In a wide ranging interview, Heather describes the culture in DC during the 90s and early 2000s and compares it to how it is today. She talks about reaching young adults in the city, developing young leaders, and why she's rethinking her groups and teaching strategy as DC becomes more and more post-Christian.
Welcome to Episode 281 of the podcast. Listen and access the show notes below or search for the Carey Nieuwhof Leadership Podcast on Apple Podcasts or wherever you get your podcasts and listen for free.
Guest Links
National Community Church | Facebook | Instagram | Twitter
Big Change Small Groups | Amazed and Confused | Community Is Messy 
Episode Links
Come see Carey and other great speakers at Orange Tour. Use coupon code CAREY at checkout for $10 off your registration.
Registration is now open for the Future Forward Conference. Join Carey in Pittsburg, PA on October 1-2, 2019.
Find training for every ministry area and every leadership level at Ministry Grid. Take advantage of their August special to lock in your annual rate with unlimited training, plus receive my book Didn't See It Coming as a bonus gift.
National Community Church – Protege Program
3 Things Young Leaders Need to Hear from Their Boss, But Almost Never Do by Dillon Smith
Millennials: The Me Me Me Generation by Joel Stein
3 Insights from Heather
1. We get stronger when we reach across the aisle and work together with those that we disagree with
One of the biggest things Heather learned while working on Capitol Hill, is that everybody has got an angle when reporting on the American political system. There is a ton of value to be found in knowing what's really going on and digging deeper into what you're hearing and learning. Value can be found in hearing out people who disagree with us.
One thing Heather would love to remind all of us is that most of those politicians are good people that genuinely want to make a difference in the world they live in. Most people don't realize that politicians have spouses and children, too. Regardless of what side of the aisle we are on, we have to be able to give the other side the benefit of the doubt and be able to love them as Christ has called us to.
2. Young leaders are in the room, so stop talking about them and begin working with them
Sometimes we're afraid that if we let a young leader lead, they're going to go rogue or go crazy, and then reflect badly on us as a result. Sometimes that's true, but not always. Heather recommends that older leaders take that risk because somebody took that risk on you. We should never become too big or too important not to take risks on the next generation.
If older leaders begin to take more risks on the young leaders in their organization, that builds trust with those young leaders. Once you build that trust, the young leader will be willing to listen to whatever coaching or feedback you have to give them as their boss. If you never give them opportunities to fail, they will never be able to learn from their own failures.
3. If you want community, aim for service, purpose, and mission – Community will follow
Community is one of those elusive things that when you try to aim for it, you don't often get it. But if you aim for something different, community comes as part of the package. The old method for building community was meeting with people face to face and then bringing them into a small group. This still works, but Heather and Carey are noticing a trend.
Both Heather and Carey are both beginning to notice that building community around something that is shoulder-to-shoulder (like serving) is actually leading to more powerful and sustaining transformation in the long run. Over the last 5 years, Carey has begun to notice that some of the best pockets of community in the church have formed around where people volunteer rather than what group they attend.
Quotes from Episode 281
The young leaders are in the room now. We need to let them talk about themselves. @heatherzempelClick To Tweet
What most people are craving for is not necessarily teach me what to think, but teach me how to think. @heatherzempelClick To Tweet
Don't trade what you want 20 years from now for what you want right now in the moment. @heatherzempelClick To Tweet
One thing people don't know is that DC is largely run by 20-somethings. @heatherzempelClick To Tweet
The church does, for the most part, a really good job with those who are down and out, but we often forget that there are people up and out. @cnieuwhofClick To Tweet
What you've got to focus on in your 20s is developing the character that you're going to need to sustain the calling that God's placed on your life. @heatherzempelClick To Tweet
Looking for a key quote? More of a reader?
Read or download a free PDF transcript of this episode here.
Select episodes of this podcast are now on YouTube. Our new YouTube Channel gives you a chance to watch some episodes, not just listen. We'll add select episodes to YouTube as time goes on.
Help Your Church Grow Without Compromising Biblical Integrity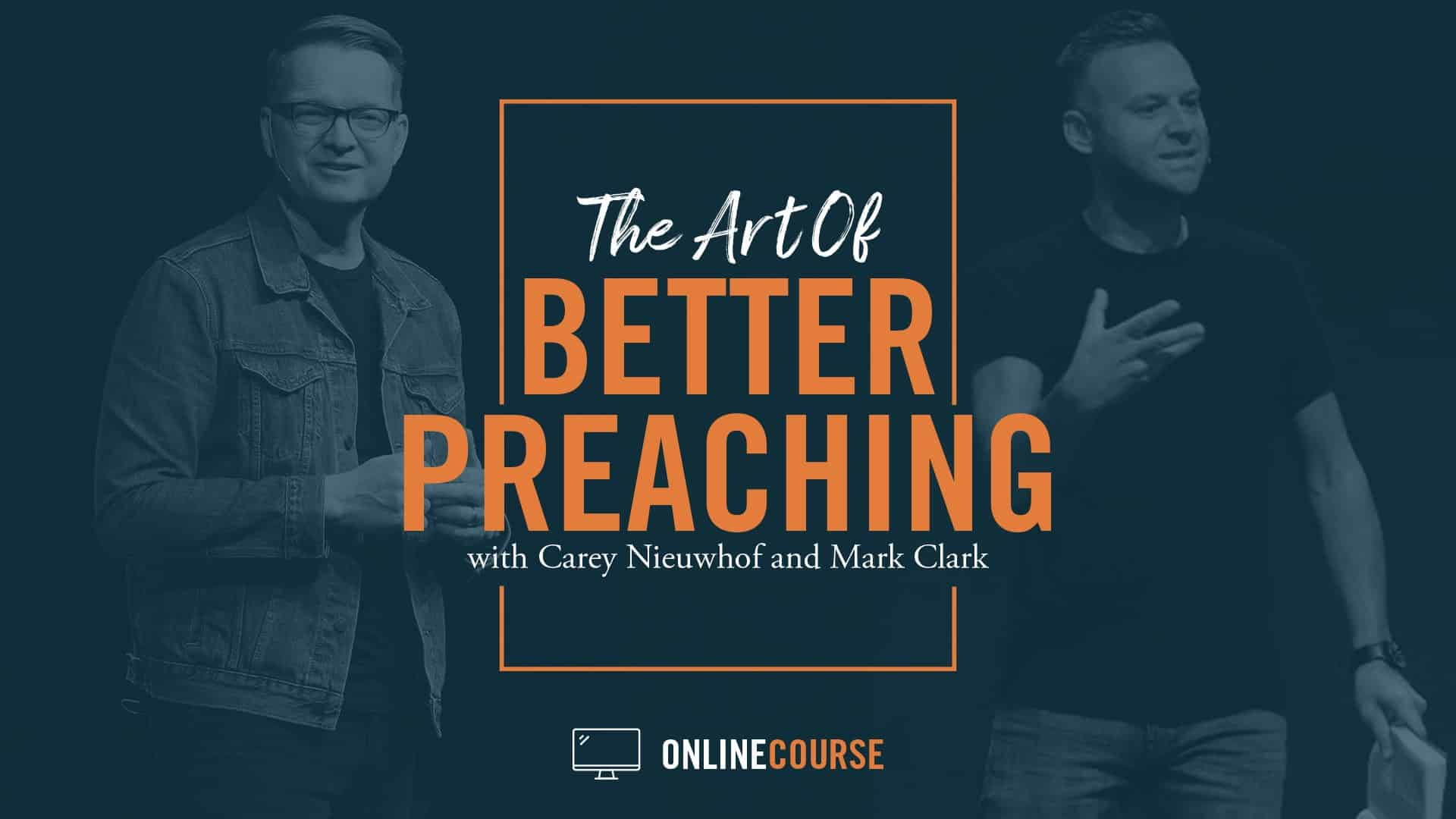 Ready to start preaching better sermons and reach the unchurched without selling out? Then it's time to start using the right tips, lessons, and strategies to communicating better.
The Art of Better Preaching Course is a 12 session video training with a comprehensive, interactive workbook that will help you create, write, and deliver better sermons. The course contains the lessons Mark Clark (lead pastor of  Village Church, a growing mega-church in post-Christian Vancouver) and I have learned, taught, and used over decades of being professional communicators.
This is the complete course you need to start preaching better sermons, including:
7 preaching myths it's time to bust forever
The 5 keys to preaching sermons to unchurched people (that will keep them coming back)
How to discover the power in the text (and use it to drive your sermon)
The specific characteristics of sermons that reach people in today's world
Why you need to ditch your sermon notes (and how to do it far more easily than you think.)
How to keep your heart and mind fresh over the long run
And far more! Plus you get an interactive workbook and some bonus resources that will help you write amazing messages week after week.
In the Art of Better Preaching, Mark and I share everything we've learned about communicating in a way that will help your church grow without compromising biblical integrity. We cover detailed training on everything from interacting with the biblical text to delivering a talk without using notes, to writing killer bottom lines that people will remember for years.
Check it out today and gain instant access.
Subscribed Yet? 
Subscribe for free and never miss out on wisdom from world-class leaders like Brian Houston, Andy Stanley, Craig Groeschel, Nancy Duarte, Henry Cloud, Patrick Lencioni, Francis Chan, Ann Voskamp, Erwin McManus and many others.
Subscribe using your favorite podcast app via
Spread the Word. Leave a Rating and Review
Hopefully, this episode has helped you lead like never before. That's my goal. If you appreciated it, could you share the love?
The best way to do that is to rate the podcast on Apple Podcasts and leave us a brief review! You can do the same on Stitcher and on TuneIn as well.
Your ratings and reviews help us place the podcast in front of new leaders and listeners. Your feedback also lets me know how I can better serve you.
Thank you for being so awesome.
Next Episode: Joel Manby
Joel Manby became the role of CEO at Seaworld shortly after Blackfish was released – a documentary about the relationship between killer whales and their trainers at Seaworld. Joel talks about the crucible of his time there trying to address the concerns of the documentary as attendance and share price dropped, and how he figured out how to address the concerns and position Seaworld for the future. Joel also talks about his early days in leadership, including becoming the youngest CEO in GM history when he was appointed to lead Saab USA at age 35, and so much more. In a remarkably candid and honest interview, Joel talks about the personal cost of leadership and how to transform culture according to the principles of love.
Subscribe for free now and you won't miss Episode 282.
The post CNLP 281: Heather Zempel with an Inside Look at Washington DC and Ministry Trends Among Young Adults and Post-Christian Culture appeared first on CareyNieuwhof.com.
Source: CNLP 281: Heather Zempel with an Inside Look at Washington DC and Ministry Trends Among Young Adults and Post-Christian Culture