by Carey Nieuwhof: New York Times bestselling author, Max Lucado, talks about how he knew he didn't have another ten years of senior leadership in him, why his passion has shifted, what causes happiness, and how to be happier.
Plus, Max shares some thoughts on the best and worst decisions he's made over his decades in leadership.
Welcome to Episode 290 of the podcast. Listen and access the show notes below or search for the Carey Nieuwhof Leadership Podcast on Apple Podcasts or wherever you get your podcasts and listen for free.
Guest Links
Max Lucado |  Facebook | Instagram | Twitter | How Happiness Happens
Episode Links
Need help with your church's website and digital outreach? Check out Pro WebFire, and get a FREE custom website build for the plan you choose by using the discount code Carey2019. Act now before the offer expires at the end of this month.
Carey will be speaking at the Future Forward Conference this October 1st and 2nd. If you're a church leader or member who is committed fully to engaging the next generation in a rapidly changing world, join us by signing up here today.
CNLP 221: Max Lucado On How He's Written Over 120 Books, Why He Never Uses Ghostwriters, How to Stay Fresh in Leadership, And His Favorite Book
Ten Signs of a Leadership Crash by Stephen Mansfield
Research on the pursuit of happiness
3 Insights from Max
1.Your interests and callings might come only for a season
Many leaders hold onto their leadership positions for too long. Max and Carey both have come to the place where they needed to pass on their lead pastor role to the next generation of leaders. How did they know it was time to move on? Max described it as "when he dipped his ladle into his leadership bucket, all he heard was a scraping sound." He just didn't have anything left for it.
Max would also want to encourage you that just because you are called to something in one season, doesn't mean you are called to that thing in all seasons of your life. How much of a tragedy would it be if you received all of your callings and giftings on the day of your conversion? It would make the rest of your life pretty boring. Your calling is for life but your assignment might change.
2. Advantages of staying in the same ministry for 31 years 
Max has been in a place of leadership at his church for 31 years, and he has been able to see a few advantages to staying in the same place for a long time. One of the biggest advantages is that preaching to the same people for so long has caused him to preach on many of the passages and topics that pastors never preach on. This has added value to him and his congregation.
Max also loves the fact that he has a very long-standing and well-respected legacy within his community that is not only paying off for him but is paying off for his wife and kids now, too. His church has invited two of his three daughters to speak, and the community of people in their church are quick to support him and his family.
3. Happiness happens in unexpected ways
The world seems to be getting less and less happy. While researching his next book, Max learned that only one in three people today report that they are happy. So where has our happiness gone? And more importantly, how do we get it back?
One thing Max realized while researching for his book was that we become happy, ourselves, when we are making other people happy. So, when we give away something that brings joy to someone else, we too are becoming more joyful. Another unexpected way that we can become more happy is by listening. If we look at the life of Jesus, we see that he was very intentional about listening to those who were hurting.
Quotes from Episode 290
I knew it was time to pass on my role when what used to energize me about our church started to drain me. @cnieuwhofClick To Tweet
It might actually be disobedient or wrong to hang on in a position to which you're not called anymore. @cnieuwhofClick To Tweet
Happiness happens when we give it away. @MaxLucadoClick To Tweet
Everywhere I look, somebody's trying to make me unhappy so that I'll buy their product. @MaxLucadoClick To Tweet
Saying no to speaking or to travel is really a good yes to my wife. @MaxLucadoClick To Tweet
Looking for a key quote? More of a reader?
Read or download a free PDF transcript of this episode here.
Select episodes of this podcast are now on YouTube. Our new YouTube Channel gives you a chance to watch some episodes, not just listen. We'll add select episodes to YouTube as time goes on.
Help Your Church Grow Without Compromising Biblical Integrity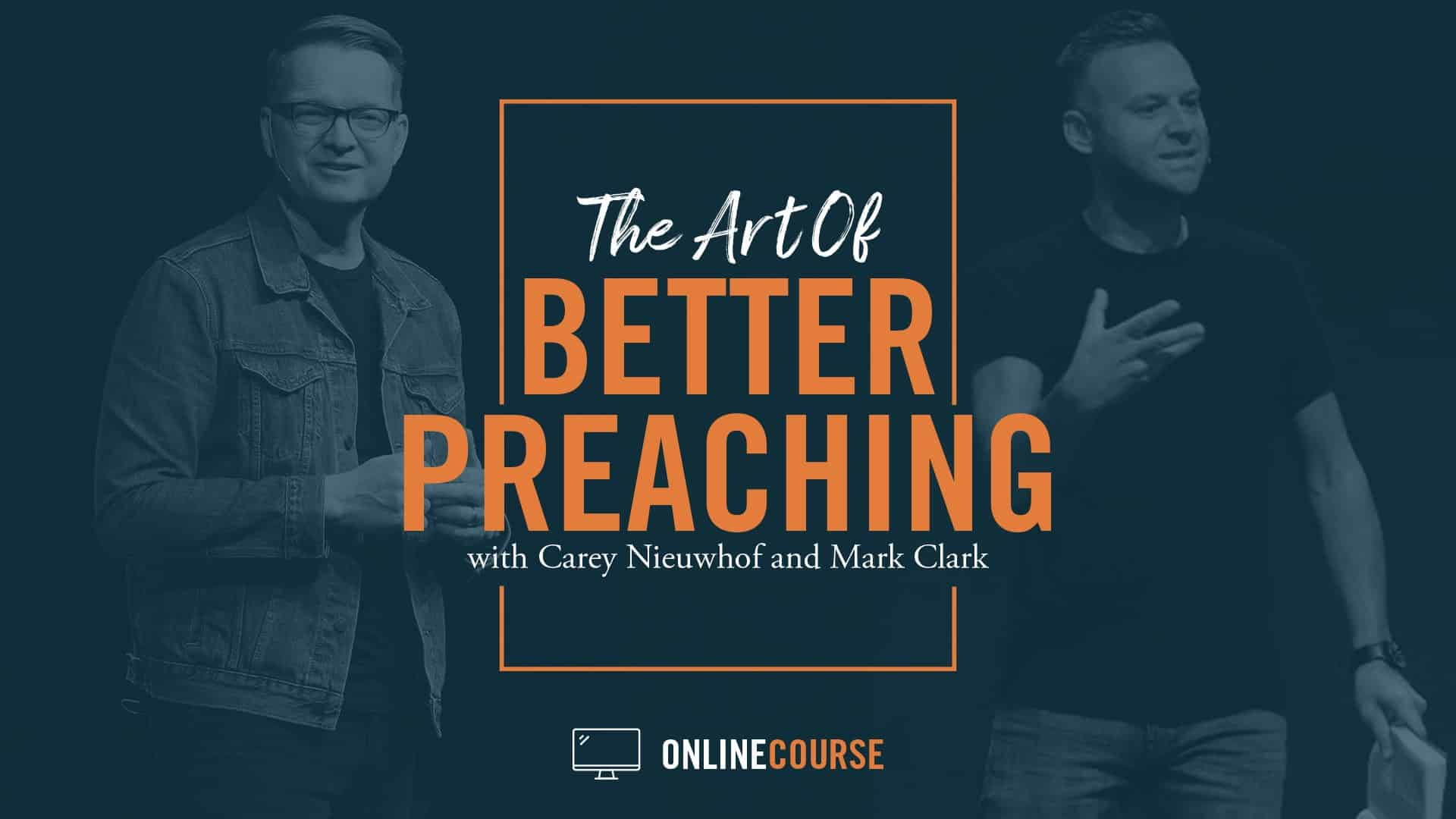 Ready to start preaching better sermons and reach the unchurched without selling out? Then it's time to start using the right tips, lessons, and strategies to communicating better.
The Art of Better Preaching Course is a 12 session video training with a comprehensive, interactive workbook that will help you create, write, and deliver better sermons. The course contains the lessons Mark Clark (lead pastor of  Village Church, a growing mega-church in post-Christian Vancouver) and I have learned, taught, and used over decades of being professional communicators.
This is the complete course you need to start preaching better sermons, including:
7 preaching myths it's time to bust forever
The 5 keys to preaching sermons to unchurched people (that will keep them coming back)
How to discover the power in the text (and use it to drive your sermon)
The specific characteristics of sermons that reach people in today's world
Why you need to ditch your sermon notes (and how to do it far more easily than you think.)
How to keep your heart and mind fresh over the long run
And far more! Plus you get an interactive workbook and some bonus resources that will help you write amazing messages week after week.
In the Art of Better Preaching, Mark and I share everything we've learned about communicating in a way that will help your church grow without compromising biblical integrity. We cover detailed training on everything from interacting with the biblical text to delivering a talk without using notes, to writing killer bottom lines that people will remember for years.
Check it out today and gain instant access.
Subscribed Yet? 
Subscribe for free and never miss out on wisdom from world-class leaders like Brian Houston, Andy Stanley, Craig Groeschel, Nancy Duarte, Henry Cloud, Patrick Lencioni, Francis Chan, Ann Voskamp, Erwin McManus and many others.
Subscribe using your favorite podcast app via
Spread the Word. Leave a Rating and Review
Hopefully, this episode has helped you lead like never before. That's my goal. If you appreciated it, could you share the love?
The best way to do that is to rate the podcast on Apple Podcasts and leave us a brief review! You can do the same on Stitcher and on TuneIn as well.
Your ratings and reviews help us place the podcast in front of new leaders and listeners. Your feedback also lets me know how I can better serve you.
Thank you for being so awesome.
Next Episode: David Platt
There are so many deconversion stories away from Christianity these days. David Platt has seen some of the greatest suffering on earth and has again, recently, asked some of the toughest questions: In a universe governed by a good God, is hell really a place? Will so many people born into an earthly hell really end up in eternal hell? David shares how seeing profound suffering and asking those questions hasn't led him away from faith but deeper into his faith. And, he shares what needs to change in Christianity is really going to impact the world.
Subscribe for free now and you won't miss Episode 291.
The post CNLP 290: Max Lucado on What Causes Happiness, How to Be Happier, and How to Know When It's Time to Leave Leadership appeared first on CareyNieuwhof.com.
Source: CNLP 290: Max Lucado on What Causes Happiness, How to Be Happier, and How to Know When It's Time to Leave Leadership