You are called to plant a church. It started with a dream, which has led to prayer. Through prayer God's refined you're vision. Now it's time to make that vision a reality, but you first need to develop a strategy and for that strategy an action plan.
What constitutes a plan?
Launch Strategy – The terms launch strategy and church plant proposal are often used interchangeably. At a minimum, a launch strategy is in written form (clear and concise) and answers a number of basic questions including why you are planting, whom you are trying to reach, where the church will be located, who will do it with you, how much it will cost, how will it be funded, what kind of church it will be, how you will gather a core group, and the critical success factors. More detailed strategies (i.e. Marketing Strategy, Outreach Strategy, Fundraising Strategy, Staffing Strategy, etc.) will be articulated in more detail in the overarching Launch Strategy document. We suggest working through your Philosophy of Ministry before finalizing your plan (see next section of the tutorial).
Action Checklist – A written list of actions to be completed during the pre-launch phase through launch. Ideally, each action includes a cost/budget, a date for completion, and a lead person or organization assigned responsibility for its completion. Some church planters turn the action list into an integrated schedule to show the interrelationships between actions (i.e. many actions need to be done in sequence).
Why are these planning products so important?
Focusing Your Vision– It's been said that you don't really understand something unless you can write it down. The process of writing a launch strategy will help you refine your vision and learn to communicate it more effectively.
Feedback– Your launch strategy should be reviewed by other experienced planters and leaders. They will give you feedback that will improve your plan and save you countless hours of heartache by avoiding problems.
Fundraising Tool– Your launch strategy will help you raise funds with potential donors and partners. Simply having a written plan communicates that you have your act together and MAY be worthy of a donor's trust. Ultimately, your vision and passion will sell your plan. The written launch strategy is a tool for opening the door to further discussions with donors.
Sharing Your Vision with Potential Launch Team Members– Your launch strategy is a great tool for recruiting potential launch team members.
Priority Setting and Time Management– Developing an action checklist will help you prioritize your time. You will get more finished in less time which results in a more time with people and a healthier launch.
[bctt tweet="Tons of FREE downloads to help build my launch strategy! #churchplanting"]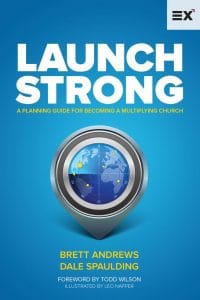 Launch Strong
Brett Andrews and Dale Spaulding just released their book, Launch Strong. Download this free eBook and learn from this great resource (ok…we're a little biased!).
Launch Strong will help you plan step-by-step with God. For some, planning is something you know you need to do, but you just don't like to do it. Others may feel like the more you plan, the less spiritual you must be. And some spend so much time thinking and planning that they never actually get much done. Somewhere along the spectrum, there is a Godly way to plan.
Brett and Dale describe the planning process for becoming a multiplying church in six steps:
Start with the end in mind.
Develop strategies.
Group and sequence tasks.
Schedule tasks.
Budget tasks.
Assign tasks.
Free eBook: Launch Strong
Where can I see samples and get more information?
Here's a group of free downloads for your use. Please check the Free Downloads page for other resources.
Checklists
[Download not found][Download not found]
Proposals
[Download not found] [Download not found]
Miscellaneous
FREE Resources for Church Planters
We have hundreds of FREE downloads ready for you to search and use--including several sample launch strategies. Click the button below to find the resource that best fits your needs.
FREE Downloads